captain beefheart page

1 • 2 • 3 • 4 • 5 • 6
Captain Beefheart and the Magic Band
In Concert: 13 December 1980 The Starship, Milwaukee, WI, USA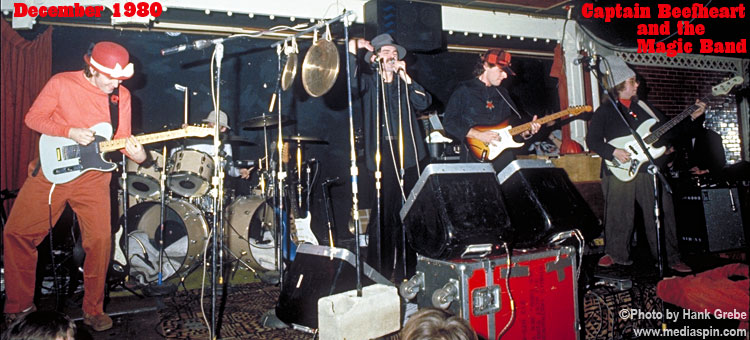 This was the last of the 7 Captain Beefheart shows I've had the pleasure of attending, including the Zappa/Beefheart "Bongo Fury" show at the Nassau Coliseum, Uniondale, Long Island, New York. It was December 13, 1980, a few days after John Lennon had been shot. The show included many compositions from "Doc At The Radar Station" and "Ice Cream For Crow" performed by many of the Magic Band members recorded on those fine final albums.

Beefheart had been on a long tour with his revived, youthful, enthusiastic, Magic Band. After the show he hung out in the bar, talking and signing autographs. An embarrassing pest persistantly asked, "What about Frank Zappa?" Retreating from the bar, the group went over to the Howard Johnson hotel where Don and the band were lodging. We hung out on the floor of a hallway on the 4th floor and talked with Don about music and show biz until dawn. He wanted to hang out with us longer, and as we were saying good bye, he followed us to the elevator. He almost got on with us saying, "I must be out of my mind... and I don't want to get back in!" - HG
Doc At The Radar Station Group, set included Ashtray Heart, Hot Head, Run Paint Run Run, Sue Egypt, Sheriff of Hong Kong, and Flavor Bud Living.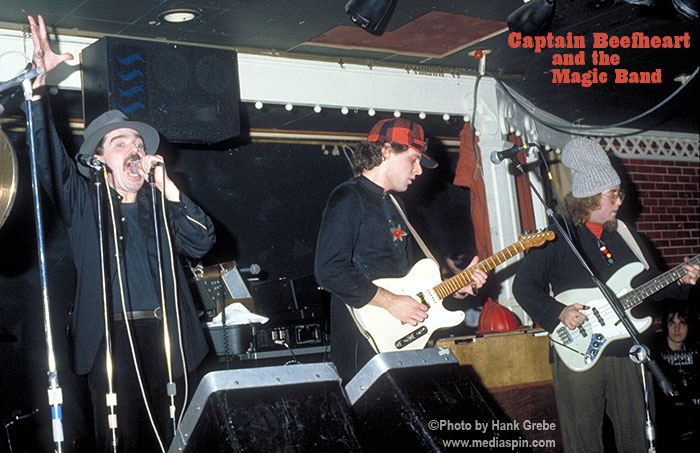 Don Van Vliet, Jeff Moris Tepper, and Eric Drew Feldman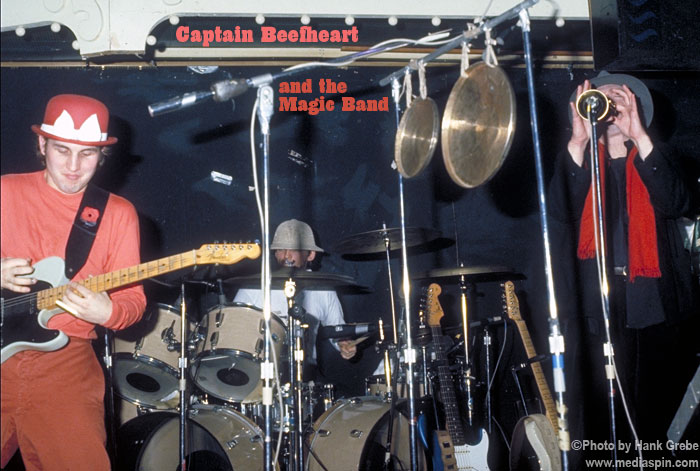 Richard Midnight Hatsize Snyder, Robert Arthur Williams, and Don Van Vliet

Hank's Beefy Concert photos appear in the boxed 5 CD set "GROW FINS" on Revenant Records.

See more of Eric Drew Feldman shortly after this tour with the amazing Snakefinger!
captain beefheart page

1 • 2 • 3 • 4 • 5 • 6
Copyright © 2006, Hank Grebe. All rights reserved no portion of this document may be reproduced, copied, or revised without written permission.