[ home | blog | zappa page 2 | beefheart | rock photo menu | site map ]
FRANK ZAPPA
AND A BUNCH OF MUSICIANS WHO
ONCE UPON A TIME WERE KNOWN AS
THE MOTHERS OF INVENTION
16 NOVEMBER 1980 • MADISON, WISCONSIN, USA

A cut from this show, "The Madison Panty-Sniffing Festival", is found on Track 5, Disc One, of Zappa's "You Can't Do That On Stage Anymore, Volume 6."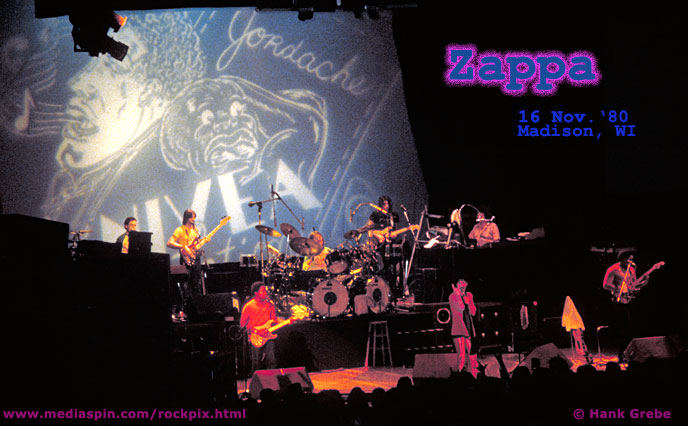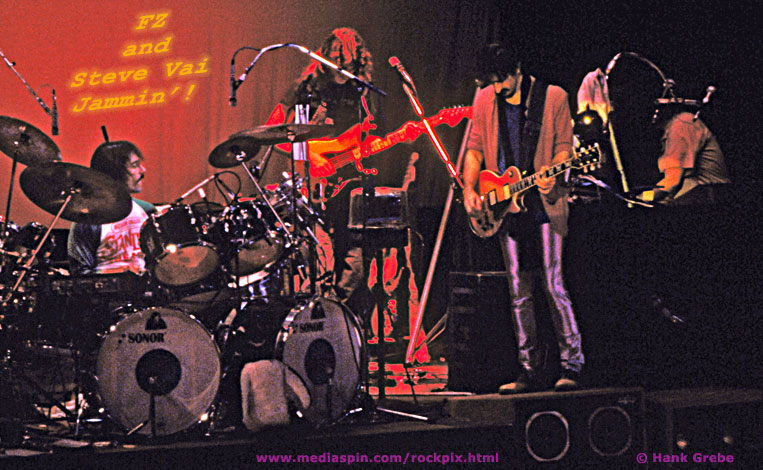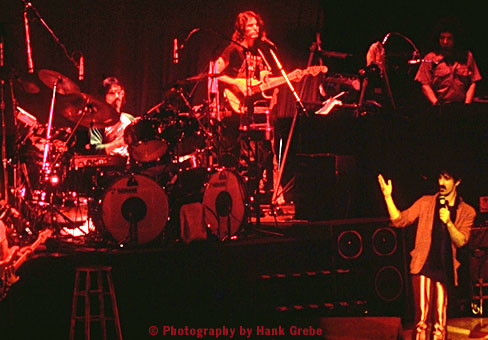 The first Frank Zappa show I saw was at the Fillmore East, June 6, 1971, shortly before it closed. Zappa and the Mothers performed many of the tunes on the live album of the same name, plus "Billy The Mountain." John Lennon and Yoko Ono made a surprise appearance at the encore part of the show, in which John did an old Liverpool song. Later there were some hi-jinx when Flo and Eddie put a large bag over Yoko and she did her screaming bit, as the Mothers jammed with it. This is one of the first concerts my younger brother, Roy, ever saw. Pretty good start, eh? When the LP came out later that summer (pretty quick turn around) I listened to it constantly after summer school art classes at Boston's Museum School.

This Wisconsin show was pretty good. A lot of stuff from the Tinseltown Rebellion album. These photos were taken whilest Frank and the band were performing The Blue Light.

I was fortunate to catch the last Zappa band tour in 1988, when they passed through Long Island's Nassau Coliseum. A nice bonus was the opening performance by the two core members of "Hot Tuna", Jorma Kaukonen and Jack Casady. This is the tour from which the album "The Best Band You Never Heard In Your Life" was recorded. Absent from the album were a number of excellent Beatle cover songs that the band performed, with slightly altered lyrics. It would be great to hear a recording of their renditions of "Lucy In The Sky With Diamonds" and the others from that set. - HG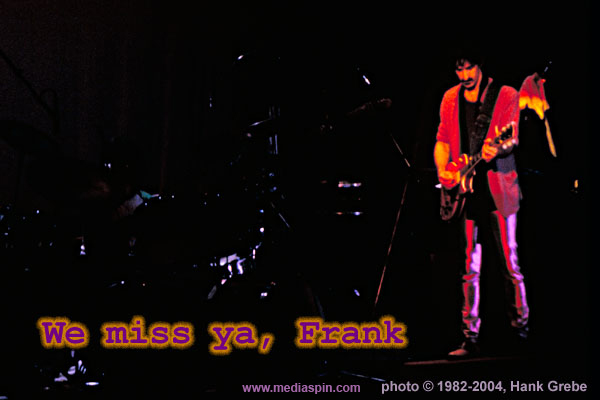 (((**** ZAPPA RELATED SITES ****)))
The Real Frank Zappa Home Page • The Zappa Forum • Zappa Videos
FZ Song Lyrics • St. Alphonzo's Pancake • Hans Hendriks Photos
DON'T MISS ZAPPA'S MUSICAL COLLABORATOR, CAPTAIN BEEFHEART...
[ home | blog | zappa page 2 | beefheart | rock photo menu | site map ]
Copyright © 2006, Hank Grebe. All rights reserved no portion of this document may be reproduced, copied, or revised without written permission.