captain beefheart page

1 • 2 • 3 • 4 • 5 • 6
Hank's Strictly Personal
Captain Beefheart and the Magic Band Concert History
Streaming RealAudio Boston Fenway Theatre Concert Recordings!
The first Captain Beefheart concert I saw was at a small club in Ithaca, NY, late 1970 or early 1971, with former Magic Band member, Ry Cooder, as the show opener. Seating was on the dance floor of the club. Ry Cooder opened with a very confident deliverance of his new solo album material. Why not be confident... he was the Rolling Stones session guitar and mandolin player! I recall Don Van Vliet appeared to be conducting the band's jamming by showing them pages from his sketch book of colored drawings.

Later on Jan. 22, 1972 at Boston's antique Fenway Theater with a bizarre silent chimpanzee act as an opening act. The RealAudio clips linked to this page were recorded at that concert on a small Sony portable cassette recorder. CB and the MB performed tunes from "Lick My Decals Off, Baby" and the "Spotlight Kid" albums, with an encore saxophone/drum composition with Arthur D. Tripp, a rare improvisation it seemed to be, and yet entitled,


Fenway Theater 1972 Concert MP3: "When It Blows Its Stacks"

Photos from the Tufts University show, with Mississippi Fred "You Gotta Move" MacDowell opening. Beefheart was in full "Spotlight Kid" limelight at this time in October, 1972.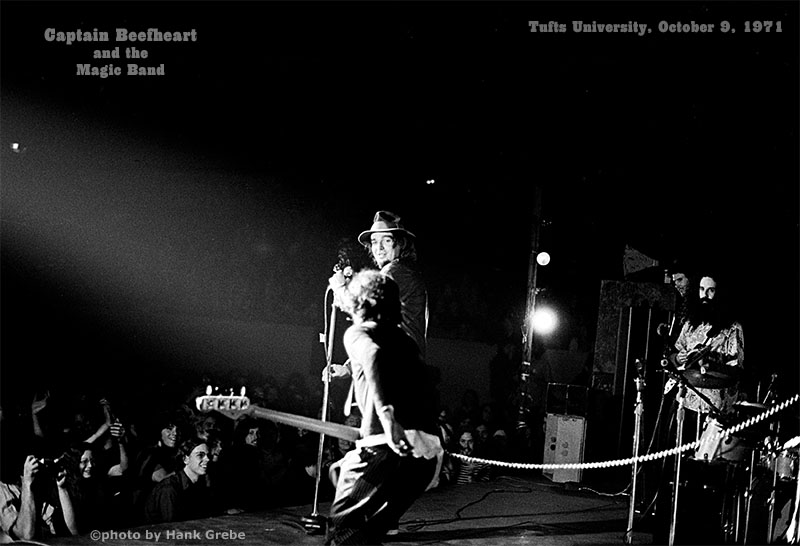 Rockette Morton (Mark Boston), Captain Beefheart (Don Van Vliet), Zoot Horn Rollo (Bill Harkleroad), Winged Eel Fingerling (Elliot Ingber)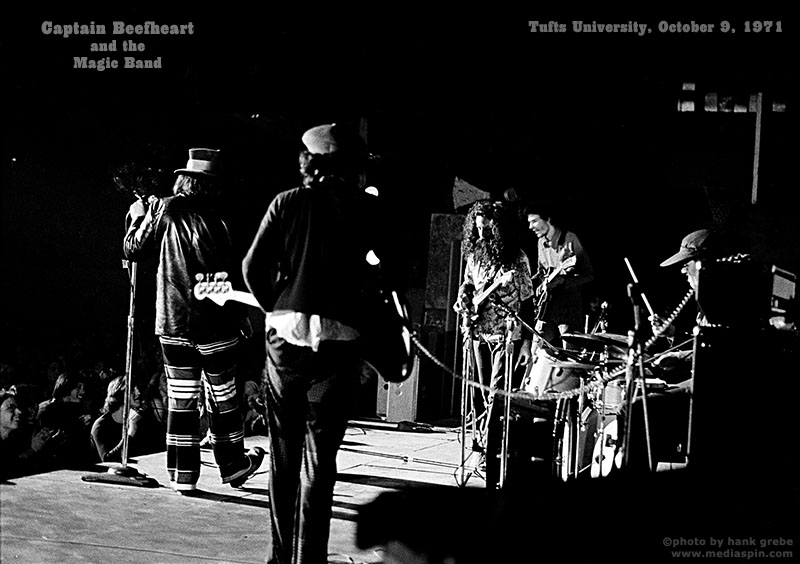 Don Van Vliet, Rockette Morton (Mark Boston), Winged Eel Fingerling (Elliot Ingber), Zoot Horn Rollo (Bill Harkleroad), & Art "Ed Marimba" Tripp


Captain Beefheart and the Magic Band tuning up... Winged Eel Fingerling & Arthur D. "Ed Marimba" Tripp


Fourth concert was a big show in at the Orpheum Theater in downtown Boston, with The New York Dolls opening. Beefheart asked the audience, "Did ya dig The Dolls?" This was a bigger band, a louder show, with Roy Estrada on bass and Rockette Morton moving up to rhythm guitar.

Back at Max's Kansas City in NYC a strange show during the "Love Over Gold" period. The was a clarinet soloist playing in the scaled down group. This was a quiet show. The late 70's were not good times for the old blues bands. Max's Kansas City was adjacent to CBGB's.

Also in the mid-70's, I saw the "Bongo Fury" show at L.I.'s Nassau Coliseum, when Captain Beefheart toured with Frank Zappa's band, and got a taste of big coliseum concerts. He appeared to be a hermit-like, scary freak amongst the worldly, professional freaks of the Zappa group.

The last concert I saw Captain Beefheart and the Magic Band was on Dec. 13, 1980 in Milwaukee, Wisconsin. - HG

Copyright © 2009, Hank Grebe. All rights reserved no portion of this document may be reproduced, copied, or revised without written permission.