captain beefheart page

1 • 2 • 3 • 4 • 5 • 6
CAPTAIN BEEFHEART & THE KIDS IN THE HALL
More Photos and Tales from the 1980 Milwaukee Starship Show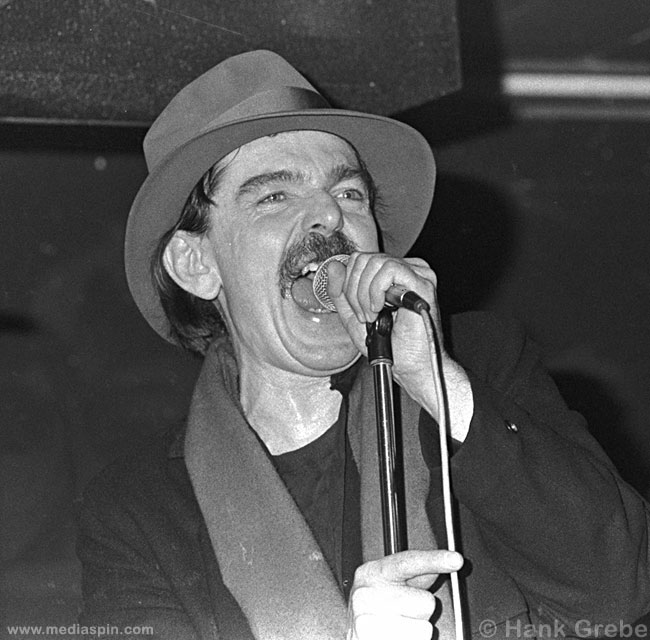 It was a cold December night in Wisconsin. I travelled with brothers Jeff and Mike DeMark and Ann, driving a VW Microbus from Madison to Milwaukee. Here is part of what Jeff writes about that night...

"The night was Dec. 13, 1980 and we had just seen Beefheart play at a club called The Starship, a small lounge on Wisconsin Avenue in downtown Milwaukee. A local punkish group called the Ama Dots opened and about the only thing I remember about them was the woman singer had this amazing head of rat nest red hair. The place was crowded and the air filled with high anticipation to hear Captain Beefheart and his Magic Band. On stage, there was a large, bronze Chinese gong, maybe 5 feet tall that Beefheart would occasionally bang on. It made a huge, crazy sound."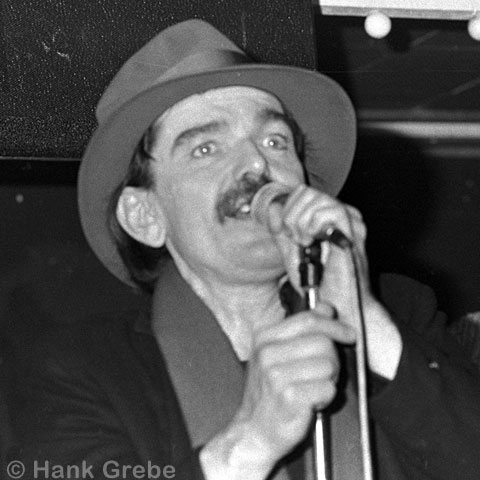 His eyes are a blue million miles...
HG: As Beefheart and Magic Band were setting up to play, I was relishing my front row seat and preparing my camera gear. An anxious fan leaned over to me an said, "I hope you don't use that strobe flash. The Captain is known to go into epileptic seizures from those." I had heard similar Luddite claims before, and seen enough Beefheart shows with flash bulbs going off to know that it was just another myth. Sometimes a photographer has to be a little cold blooded. I cruelly light-blasted the Beefheart & The Magic Band, so that I may kindly share the photos today.
Audio recording is a more passive activity, and I knew Mike DeMark was being quiet as a mouse getting a high end cassette recorder prepared to roll.
Mike DeMark: In 1980 I was just beginning my career as a recording engineer, and I had a fairly high-quality cassette recorder that I brought along to the show. I wasn't a bootlegger, but it just seemed important to document Beefheart's show.
Mike DeMark (continues): After the concert we were hanging out with the band backstage and they noticed the recorder and asked if I had taped the show. I hesitantly said yes, and they asked to hear it. They were all enjoying the playback when the road manager walked into the room and instantly said "Oh, you can't have that," and confiscated the tape. A few minutes later Beefheart came into the room, and said to me "So you're a taper, huh?" "Well, not really..." I said weakly. "They oughta put you in jail," said the Captain. That gave me a bit of a chill, but he didn't seem to hold a grudge about it.

Jeff DeMark: I don't remember all that much about the show---I think there were a number of songs from Ice Cream for Crow. What I do remember is Beefheart sat (after the show) in a circular Naugahyde booth after the show surrounded by a large group of fans and he was talking with everybody and signing things. Then suddenly a guy said,

"Captain, how can you just sit here and answer all these questions?"

He replied, "Because I know there's no answers."
| | |
| --- | --- |
| | |
Jeff DeMark: After hanging out at the club somehow we made it over to a Howard Johnson Hotel across the street. The photo on the cover was taken by Hank Grebe, an artist friend from Madison who had come down with my brother Mike and I. I'm the one in the middle writing something down and my brother Mike is sitting next to the soda machine. A English roadie and Beefheart sat with us all night on the floor near the soda machines talking all night long, until maybe 6am. Captain Beefheart was continually sketching in a large sketchbook, smoking cigarettes, and simply conversing. My brother Mike had a tape recorder and was playing various tapes, some by New Orleans artists I think.


There was a time when I was so obsessed with Beefheart's music, that I even had a lucid dream of meeting Don Van Vliet at an intimate party. So, it was fantastic to eventually meet him in everyday waking life. Sadly, in the eight years between Beefheart's big 1972 concerts and this smaller 1980 club show, Don seemed fragile and diminished. He mentioned reflectively having regretted adopting the name, "Captain Beefheart" and saying, "It's the shingle that's given me the shingles. - HG
Sad to learn of Don's passing today, R.I.P. Don Van Vliet January 15, 1941 - December 17, 2010.

NPR Obituary • Rolling Stone • Huffington Post RIP • Wall Street Journal Speakeasy • E! Online • BBC News • The Guardian • MSNBC Today • Grant O'Neill
captain beefheart page

1 • 2 • 3 • 4 • 5 • 6